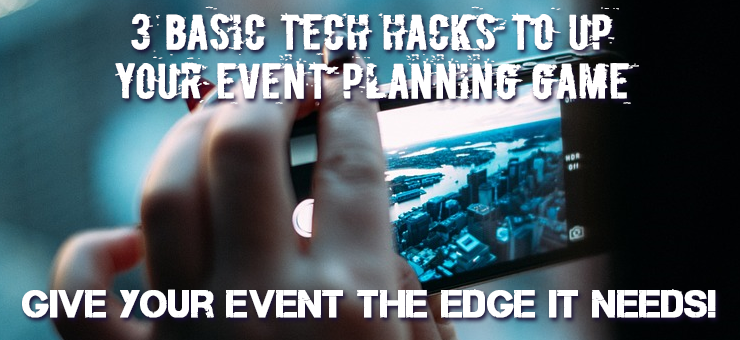 Planning any event is stressful. From organizing the guest list to finding the best motivational speakers, you can't relax until long after the last guest has left and you've received the last thank you email or card. Whether it's the first or just the most recent in a long string of events you've set up, you always need to bring your A-game. To help you, we've drawn up this list of tips and tricks to up your game and ensure you create a memorable event with minimal stress.
1 - Social Media
If you're not on some form of social media, get on it now. Twitter, Facebook and Instagram are the most commonly used forms of social media, and are a very simple way of interacting and engaging with your audience.
When you're planning an event, at a minimum, you should create specific event pages on Facebook. Eventbrite allows you to sell tickets and will give you a much better idea of how many will be attending. You should also advertise on LinkedIn, if it's a business event. All these different event pages can be a little overwhelming, but you need to reach as wide an audience as possible. Additionally, by hitting as many different pages as possible, you're driving your event higher on Google search results than you would otherwise.
2 – Live Content
Create your own media during the event. For instance, both YouTube and UStream allow you to livestream your event for free. Set up an official Flickr gallery or Instagram hashtag for the event, and encourage attendees to take photos and upload them with prizes for the best photos. Backupify offers free service, Session Tweets, which saves tweets with a specific hashtag as a PDF that you can share with attendees or around the office.
Speaking of personal hashtags, use tweetwally to track hashtags on twitter in real time and project them someplace visible so that attendees can keep track of what's happening and where. You can even hold small contests, like giving a time limit to rush to a certain area for a prize, or hiding someone in the crowd that attendees have to find.
3 - Engage
Don't shy away from feedback and audience input! Audience members love participating in events. South by Southwest allows attendees to vote on more than 30% of its programming selection through its "panel picker." Depending on the size of your events it may be easier/safer to use Crowd Campaign, or even something as simple as Twitter polls to give attendees a chance to make their opinions known. Strawpoll is another great option.
Ultimately, you have to respect your audience and give them a good, memorable show to make a positive impact and keep them coming back. Leaning toward the digital world for help and taking advantage of modern technology will only make your event planning easier and give your attendees an unforgettable experience.