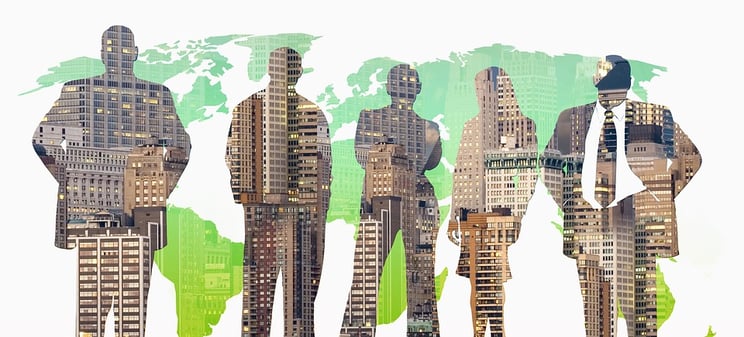 Choosing the right professional speakers for your audience can make or break an event. You want speakers who will motivate, inspire and of course entertain your audience. For that reason, selecting just the right pair of speakers can be a bit tricky. To help you plan your next event, we've put together a few speaker pairings that are sure to engage your audience.
Political Powerhouses: Newt Gingrich and Bill Richardson
Newt Gingrich: You might know him as a leader in the Republican Party, former Speaker of the U.S. House of Representatives, and the brains behind the influential "Contract with America" that led to his party's majority win in 1994. What you might not know is that Newt Gingrich is a published author of several New York Times best sellers. His breadth of knowledge includes topics such as global economics, military, smart energy, leadership, and healthcare.
Bill Richardson: As a former, popular two-term Governor of New Mexico, Bill Richardson's bold vision influenced the state's move towards clean energy, affordable healthcare, quality education and the launch of a lucrative commercial space industry. Richardson was former Secretary of the U.S. Department of Energy and has a very successful record in diplomacy aiding in the release of hostages from North Korea which has earned him several nods for the Nobel Peace Prize.
Why they make a good speaker pair: Get unparalleled insights into the global economy, human rights, and sustainability from two of the most formative political thinkers available for keynote speaking events.
Islamic Insight: Ayaan Hirsi Ali and Maajid Nawaz
Ayaan Hirsi Ali: Listed as one of the 100 most influential people in 2005 according to TIME Magazine, Ayaan Hirsi Ali is a world-renowned advocate for female protection against violence and presents unique perceptions into Islam's place in the Western world. Hirsi Ali grew up as a devoted Muslim, but her religious views have since changed. She is an outspoken opponent of female genital mutilation and she even escaped an arranged marriage gone awry. She fled to Holland to escape her marriage and quickly learned Dutch. Her passion to drive a reformation of Islam inspired her to earn an M.A. in political science and she eventually became a member of the Dutch parliament.
Maajid Nawaz: Once an executive leader of Hizb ut-Tahriran, a global group with strong Islamist views and dogma, Nawaz was eventually imprisoned for his role in that group. His imprisonment allowed his beliefs to evolve, and upon his release in 2006, he renounced his radical past. While remaining true to the Muslim faith, he holds more moderate views and is a strong voice against extremism. Today, Maajid Nawaz is the co-founder of a think tank called Quilliam, whose aim is to promote healthy integration and religious freedom through challenging the narratives of Islamist extremists.
Why they make a good speaker pair: Both Hirsi Ali and Nawaz have undergone significant hardships in order to make drastic transformations in their lifetimes. They have both become a voice of reason in both the Muslim and Western worlds.
Strong Female Voices: Tomi Lahren and Leslie Marshall
Tomi Lahren: Lahren is a Conservative commentator, and at 23, she is one of the youngest political commentators out there. Her hour-long show, Tomi, is featured on Glenn Beck's TheBlaze TV. Lahren made a splash on the national political scene with her "Red, White, Blue & Unfiltered Final Thoughts" on the Chattanooga terrorist attack. Tomi Lahren is not afraid to speak her mind and open a dialogue on items that other people would find controversial.
Leslie Marshall: Marshall offers her progressive and liberal views on national television, on her own talk radio program, The Leslie Marshall Show, and as a blogger for the Huffington Post. She has over 27 years of experience in radio and national television. Leslie Marshall became the first female host of an 'issues-oriented' national show when she took over Tom Snyder's role on the ABC Satellite Radio Network back in 1992. She currently shares her liberal, progressive, and Democratic point of view on Fox News.
Why they make a good speaker pair: Listen to both Conservative and Liberal female perspectives on today's global news and social issues.
Our diverse and talented speaker's bureau includes some of the top names in politics, business, sports, healthcare, education and more. If you're interested in booking one of our professional speakers for your next event, download our FREE Services Guide.