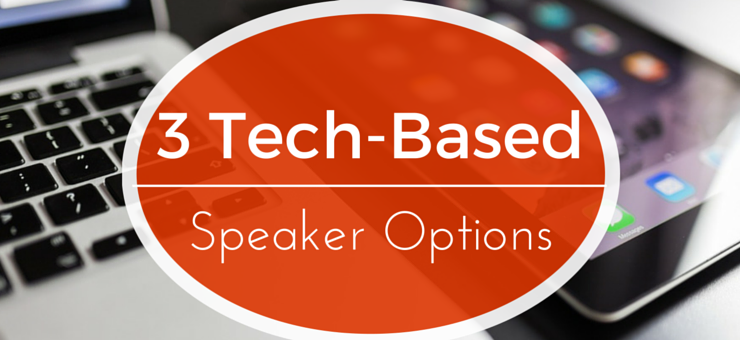 Speakers are in high demand right now. Every high school graduation, corporate event, industry conference, or other major occasion often requires some kind of keynote speaker. Just about anyone with both a reliable internet connection and an interest in that speaker can book those speakers. Tenacious and tactful event planners can make sure a speaker will be there on a certain day at a certain time, but how can they make sure that their event will have a good showing?
What about the people who can't physically attend your event? Some people don't have the budget to buy an airline ticket and others might be too far away or too busy to attend. Event planners can allow these people to attend by hosting a webinar, broadcasting the speaker on a simulcast, or by utilizing other virtual appearances. Those who can make sure they allow for these people will maximize the number of registrants for their event and the overall experience of their audience.
Record Your Speaker's Talk in a Webinar
Webinars are perfect for the people who can't physically attend your event. Live webinars are broadcasted to people who sign up to attend, and those people should be able to ask questions depending on your webinar provider. If you'd like a comparison of webinar providers, click here.
The best part of hosting a webinar is what you can do with it after it has happened. It is essential that you upload the recording to YouTube or Vimeo and add that to your website because your site's visitors might use it as a resource. As soon as the live webinar is on your site as a recording, it is considered a webcast. That webcast should be shared on social media to your followers to draw more people into your website.
The effective usage of webinars combined with a well-known speaker will allow more people to attend your event, and benefit yourself in the long run. Here's an example of how webinars can help your digital presence: Ben Parr is known for his digital expertise as well as his thought leadership in how to get attention for business products and services. People listen to what he has to say, so for that reason, you should share the webcast that he participated in. People will engage with it and you come away with a valuable resource.
If Your Venue is Small, Manage the Overflow with a Simulcast
Slightly different from webinars, a simulcast is an extension of another video. In case of an unexpectedly large attendance, smart event planners can set up multiple viewing areas for a few different reasons:
Too loud to hear the speaker
Hard to see the speaker
Makes up for a small venue
Can make the simulcast viewable on a tablet or smartphone
If you want to set up your simulcast on YouTube follow these directions. An example of a good usage of a simulcast would be in an event where Sanjay Gupta is speaking. The Chief Medical Correspondent at CNN would make any healthcare conference an insightful one for the audience, and because of that attendance might be more than the event planner originally expected. With simulcasts, more people can tune into your event from more locations.
Virtual Experience
Since the best speakers are constantly balancing their own professional job(s) and their public speaking appearances, they aren't always easy to schedule. For these situations, we recommend virtual experiences.
This public speaking method is very similar to Skype or FaceTime, and it's great because it doesn't require your speaker to physically attend your event. This gives event planners the wherewithal (and in some cases, the financial capability) to book the ever-busy Richard Branson. The entrepreneur behind Virgin Group is most likely in a different country, and he most likely has a jam-packed schedule. With a virtual appearance, you can still plan for Richard Branson being a keynote speaker.
Technology has the capacity to make booking your next speaker easier, and these three tools are no different. Utilize them effectively to make the most of your guest speaker and give a larger audience some valuable information that only a keynote speaker can deliver. You can bet you'll see an increase in the number of registrants for next year!