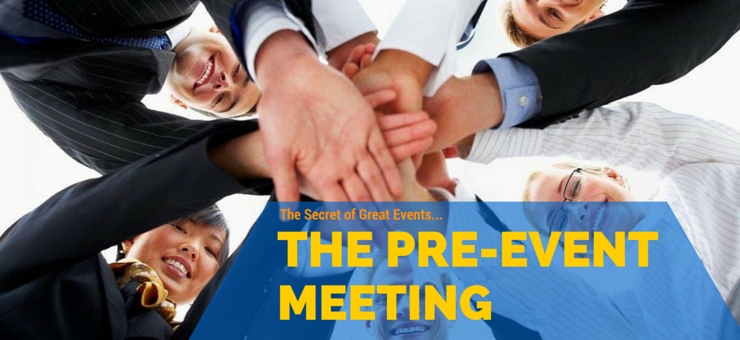 As an event planner, your ability to effectively plan and prepare for an event is one of the reasons why they are successful. For months, you've been working through the details of getting people registered, acquiring exhibitors and sponsors, managing attendees' dietary restrictions, and a whole lot more.
As your event draws nearer each day, and as more people get involved, it's your responsibility to communicate your plan to your speaker, to your staff, and to your attendees in a way that makes your event go off without a hitch.
1) A Call Before the Event
The most efficient way to do so would be to hold a pre-event, or pre-conference meeting. This meeting should happen a few weeks before your event, and can be done in person, or via a conference call. You should include the event's speaker and as many of your event planning team as you think necessary to cover all aspects of your event. The call should last no longer than 15 to 30 minutes, and should go over your expectations as well as the speaker's expectations to get a better understanding of what will resonate with your audience.
2) Don't Waste People's Time
Since there are so many busy people in attendance, it's important that you put some time into the planning of this meeting. We've seen that the most successful pre-event meetings are typically the ones where the event planner sends out the meeting's agenda ahead of time. This way people can prepare in advance to get some idea of your event. Be sure to stress the importance of getting participation from everyone, and lastly, allow some time for questions.
3) During the Pre-Event Meeting
You will only have 30 minutes to collect vital information about your upcoming event, so make sure you've delegated someone to take good notes. Cover all aspects of your event, from the setup to clean up to account for all loose ends. Don't forget to talk through other speaker-centric items, like transportation to and from the event, lodging, and any special accommodations. Event planners who provide for the unique preferences of each speaker will have an easier time finding a speaker for future events.
Here are a few other essential tasks to make sure everyone is on the same page:
Establish who important VIPs are, and how to treat them
Create an emergency action plan
Explain what will happen if delays need to occur
Go over any questions or concerns from your team
Cover dietary restrictions, allergies, or other issues
Similar to performers rehearsing a play or musical, everyone needs to understand their role for your event to be a hit. Pre-event or pre-conference meetings are the best way to give yourself the peace of mind that your event will be a great one in the eyes of your speaker and your attendees.
When you book a speaker through WWSG, we host and facilitate the pre-event meeting with your speaker so you can focus on your event. Contact us to make sure nothing slips through the cracks in your next event.