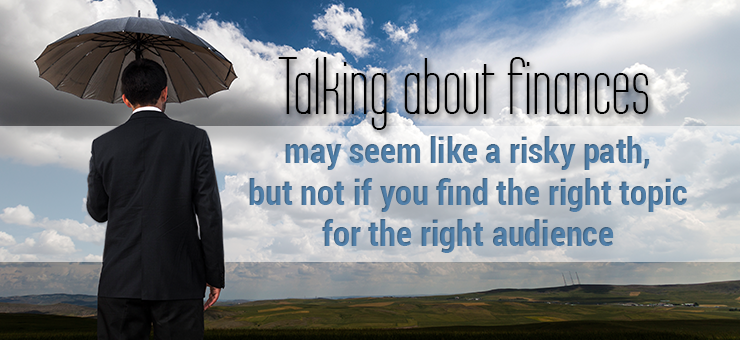 Without proper consideration for the audience, speeches delivered on topics within the financial industry can sometimes be met with bored faces and blank stares. When choosing a speaker for your organization, the most important question to ask yourself is, "What will my audience find most helpful and relevant to their role to provide a productive experience?" Here are four of our favorite speech topics that are not only innovative and timely, but also won't put your audience to sleep.
The Future of Financial Stability
We all think about our financial future. We ask ourselves "Will I be able to retire when I want?" With the drain on Social Security funds going to the Baby Boomer generation, questions like "What, if any, supplementary income will I have?", "Will the market crash again like in 2008?" need to be addressed. Because of these concerns, speeches that address financing hit close to home for most. Sheila Bair, former Chairman of the FDIC has several speeches that address concerns Americans face in today's volatile economy.
The topics Chairman Bair addresses when speaking often outline the current health of the financial services sector, the impact that regulatory reforms will have on the size and structure of the financial sector, the continuing risks in the housing sector and the dangers the foreclosure crisis poses to financial institutions and the broader economy, among others. Thought leaders with unique experience, not to mention the depth of knowledge, as Chairman Bair, have instant trust with the audience, keeping listeners engaged and creating a lasting impression.
Innovation That Causes Business and Economic Growth
In 2011, the White House launched the initiative "Startup America" with the goal to "accelerate high-growth entrepreneurship throughout the nation." In a statement by President Obama he said:
"Entrepreneurs embody the promise of America: the idea that if you have a good idea and are willing to work hard and see it through, you can succeed in this country. And in fulfilling this promise, entrepreneurs also play a critical role in expanding our economy and creating jobs."
That kind of dedicated commitment has prompted countless entrepreneurs to start companies like Dropbox, Snapchat and many others. Entrepreneurial speeches give audiences fresh perspectives on how they view business; this is particularly true for start-ups.
One entrepreneur who has been touted as "disrupting an industry" is Shubham Banerjee. Shubham is the Evangelist and Founder of Braigo Labs Inc. and inventor of Braigo a low-cost braille printer built from LEGOs, but what's most astonishing is that he is only 13 years old. Topics that Shubham speak on describe how to "Prototype Your Way to Disrupt." Other speeches he gives tell the story of how a 13 year old used LEGO pieces to build a printer that helps the blind read.
Speakers and topics like these result in eager listeners. Creating unparalleled experiences spark audience engagement and interaction, spurring interest and anticipation for future speaker events.
How to Keep the Attention of the Millennium Generation
When brainstorming speech topics for a millennial audience, the first thing that comes to mind probably isn't the financial sector. But think about it for a moment, the largest generation that has ever lived on planet Earth is the Millennium Generation. They have surpassed the Baby Boomers which begs the question, "What impact will this generation have on the financial industry?" A speech that addresses this question is almost guaranteed to entice listeners.
In today's fast paced culture, news is less about the content that is said or written, and more about the 140 characters it takes to grab someone's attention. This younger generation not only has a shorter attention span, but they also care less about their financial future. Organizations that want to educate this generation should bring in speakers such as Ben Parr, a thought leader and expert in capturing audience's attention.
How Not To Ruin Your Financial Life
We live in a time when Americans are financially exhausted more than any other generation in history. Many say America has hit a tipping point of no return, yet, others see hope through education and awareness. Speeches on the state of personal financial situations spark action, which in turn affects the financial industry in a powerful way. Ben Stein has perhaps said it best:
"Every soul deserves a shot at a Cadillac, but not everyone should be guaranteed a Cadillac."
Ben Stein, a financial expert and economist, speaks on both ends of the spectrum. He discusses how to develop financial plans to meet goals how to organize personal finances – both topics that apply to just about everybody.
Conversely, Stein discusses ways to ruin your financial life. Approaching topics in this way creates opportunities for solutions to be discussed, which once again generates interest and engagement within the audience.
Interested in speaking further about one of these topics? Contact us today to learn more about the speakers and topics we covered!