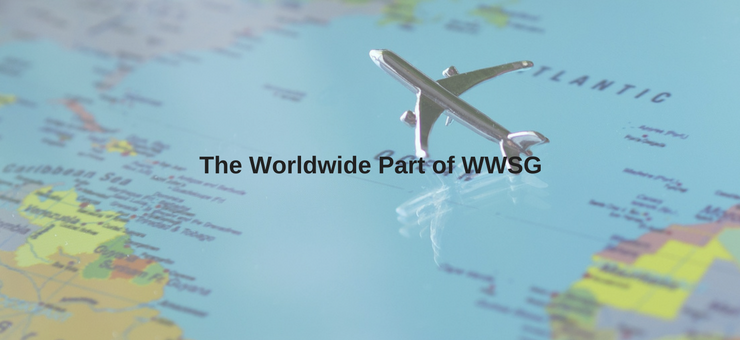 The United States leads the way in the global professional speaker industry. Keynote speakers from around the world desire to be represented by an American speaker's bureau since they are likely to get the most value from working with these firms.
At Worldwide Speakers Group, we represent some of the best and brightest thought leaders in the entire world. No matter where in the world your conference, gala, or event is, you should always book a speaker with us.
However, we understand that working with a bureau—rather than directly with the speaker—can raise reservations to some clients internationally. So why should international conference planners and event coordinators partner with WWSG?
Our commitment to our customers, domestic and international, sets us apart. Our customers choose WWSG because of our follow-through and our professional, customer-focused service. Our customers are at the center of everything we do, and our success comes from their success. They benefit from WWSG's customized approach to their exclusive event and our ability to help them define their business objectives to become successful.
1. Why is it beneficial for speakers to work with a bureau for international speaking events?
When working with WWSG, speakers trust in our ability to handle all logistics effectively and efficiently. While the speaker may have the ability to prepare for an international event, leaving the task in the hands of experts ensures that they will be taken care of from beginning to end. In addition to negotiating speaker fees and expenses on their behalf, the bureau will handle travel visas, currency exchanges, transportation methods, and other important aspects of event management. The speaker can then concentrate on pleasing the client and audience and leave the logistical plans to their team.
2. How do clients worldwide benefit from working with a bureau?
While most clients have an idea of what they are looking for in a speaker, there are many times their information is incorrect or misguided. A speakers' bureau helps clients gather information on speaking topics, fees, and logistical information to ensure they are making the right decision for their budget and their audience. Because bureaus are prepared to handle logistics and work with the speaker's office, they lift a weight off of the client and their events' team to ensure the speaker is safe, punctual, and the overall perfect fit. A bureau will always have the client and speaker's best interest and ensure a fair, successful, and productive event for all parties.
3. What does WWSG offer international clients when planning an event?
WWSG will always offer one of our experienced agents to travel with the keynote speaker if the client feels that it would make the communication process easier on site. Having a representative who has been working with the client and speaker from the beginning allows for a seamless event and easy on-site experience.
Additionally, WWSG will help you with the creation of different contingency plans so the client can prepare to the best of their ability. For example, flights may be delayed, security details might be in effect, and different cultural events and holidays may be taking place. When creating contingency plans, these scenarios are researched and taken into consideration. Both the speaker and client will always have a backup travel and game plan.
4. How does WWSG tackle language barriers with international firms?
If we do not have someone on our staff who speaks the client's foreign language, we take the time to understand the client's culture and background beforehand to enhance the communication experience. Any written or spoken information given is treated delicately and with much attention to detail. Conversations are often slow paced and free of any slang, jargon or idioms. WWSG agents frequently ask for clarification, repeat back to ensure a full understanding of their client's needs, and are very specific with their details to be sure all areas are covered.
Following each conversation, our agents will send an email to recap the information given and the details agreed upon. Having a written overview allows the client and WWSG agents to refer back to the past conversations and work effectively.
5. How does WWSG protect speakers from international taxes, laws, and regulations?
Through our history working with clients around the world, we've been able to keep a profile of each country we've worked with. We follow currency exchanges, financial restrictions, speaker taxes, technological capabilities, and much more. Our team does thorough research to keep this information up to date and our speakers informed before traveling.
6. Does WWSG work with other bureaus internationally?
WWSG works with all bureaus worldwide to co-broker speakers that our clients wish to have at their events. We also offer our speakers to other bureaus to ensure they are given every opportunity to spread their message. Our team treats each other, our customers and our vendors with dignity, consideration, open-mindedness and respect.

By valuing diverse styles and skills, recognizing each individual's contribution, and staying open to each other's perspectives, WWSG cultivates an environment of innovation and collaboration — which helps our customers and our speakers.

For more information, speak with an agent today to book a speaker for your next event.