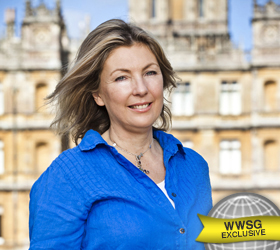 Practicality meets nobility in Lady Carnarvon, who has become renowned for opening up her husband's family home to the public and the popular television show, "Downton Abbey." As the eighth and current countess of the Highclere Castle, she travels the globe to share the insteresting history of the building and the fascinating stories of its inhabitants over the decades.
From how her great ancestor, Lady Almina, won over society against terrible odds to how the castle was affected during the First World War, audiences find her both captivating and enlightening. She's an incredible lady with an indomitable spirit that is impossible to ignore--and there are a number of things about her that you've likely never heard before:
Lady Carnarvon has 6 dogs, a pet sheep named Sheila, and 8 horses of various shapes and sizes. Highclere Estate has a mixed farm and it is one of her greatest pleasures to ride around it with her husband.
A large portion of Lady Carnarvon's day is taken up either looking for people or being sought by them. The manor is so vast with between 200 and 300 rooms that they can lose quite a bit of time that way!
She has grown the library, one of the family's favorite rooms, to over 5,600 books.
Lady Carnarvon's recipes extend to over 200 years.
Records indicate that people have lived at the Highclere Estate for over 1,300 years. Lady Carnarvon explores the idea of community and how we live and what we can learn in her writings and talks.
The Downton crew arrives in early February to begin filming each season and are there off and on until mid-July.
Lady Carnarvon has published two historical books, Lady Catherine, the Earl, and the Real Downton Abbey and Lady Almina and the Real Downton Abbey: The Lost Legacy of Highclere Castle have been widely popular reads throughout the world.
Interested in contacting Lady Carnarvon as a motivational speaker? Contact us for more information.