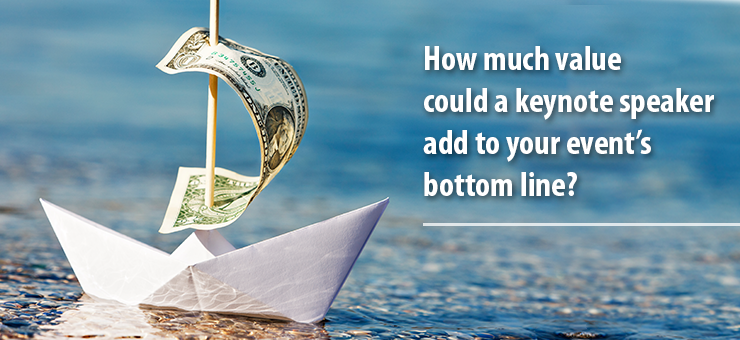 When planning a major event, making decisions based on the potential return on investment is a critical part of the process. Anybody who works in this industry knows a conference operates just like any business, especially large-scale events with substantial budgets, thousands of attendees, and many key stakeholders. Here are a few ways you can achieve a high ROI from your next event.
Choosing the Right Speaker
The speaker is by far the biggest investment one can make when it comes to an event. The notable names who present the keynote address are the number one driver of ticket sales and attendee turnout. They are the industry thought leaders who possess the knowledge and expertise coupled with experienced storytelling ability that attract the interest of people around the world.
Additionally, choosing a speaker that resonates with your audience and addresses their pain points is critical to the success of an event. If your target market doesn't see value in the speaker you choose, event attendance will be unsatisfactory. And those that do attend will find little to no value in the keynote speech, potentially tarnishing your brand and hurting future event attendance.
Event Objectives
Depending on your event objectives, the choice of speaker may vary. If your main goal is to sell a high volume of tickets, big name speakers like Newt Gingrich or Steve Wozniak will do the trick. These high profile speakers will give you the kinds of turnout you wish to achieve.
If your goals are more focused on inspiring a crowd and are not as money-driven, hiring an inspirational speaker with a lower price tag is the way to go. Speakers like Ben Parr and Scott Gottlieb are highly qualified and inspiring speakers that fit that category.
If your goals are more focused in the geo-political landscape, William Burns, Robert Zoellick, or Henry M. Paulson Jr. might be the way to go.
Event Budget
The speaker should hold the most weight when budgeting and planning for your event. In order to save a little money, you can cut down in other areas. If you have an underwhelming beverage selection, but your speaker delivers a smash hit of a speech, the audience members won't go home agitated about the refreshments options. They are at the event to feel the inspiration of being in the presence of a great speaker; if that element is there, chances are they will be satisfied.
In the event of a smaller budget, wallet-friendly speakers can still deliver great returns. If the event has smaller capacity, you still have the opportunity to sell out the event if marketed properly. Don't let a small budget intimidate you from achieving a high ROI. No matter the size, ensuring the event receives proper demographic analysis and promotion is crucial to achieving results.
With so many options available, WWSG can provide the right speaker for your event regardless of size and budget. For more information on WWSG speakers, visit us here.