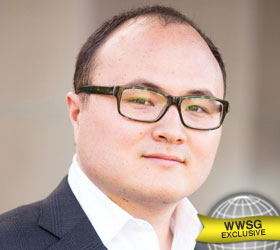 In his new book, Captivology: The Science of Capturing People's Attention, Top 10 Tech Journalist and Silicon Valley Insider Ben Parr writes about how to get noticed in a world of information overload and diminished attention spans. The author is quick to point out that it's not a book for self-promoters but, instead, a book about "…capturing the attention for the great ideas, the great art, the great projects that you have." Captivology is a story of "our relationship with attention and how capturing it can transform everything you do." Welcome to the world of Ben Parr.
Keynote speaker Ben Parr is an award-winning journalist and commentator, author, technology and business forecaster, investor, behavioral economist, and has been named by Forbes magazine to its "30 Under 30" list of ones to watch. He co-founded the venture capital firm DominateFund and as the co-editor of Mashable has written over 2,400 articles regarding technology, business, and social media. Parr understands the mind of talented individuals that just want their message to be heard. The New York Post writes "Ben Parr doesn't get all geeky explaining how it works; instead he draws on examples from Beyoncé, Steve Jobs and the creators of Game of Thrones. Whether you're an entrepreneur, manager or up-and-coming worker bee, Captivology has tips for you."
With Parr's practical and humorous insights, audiences are instilled with a firm understanding of how to capture attention and communicate on a more effective level. Parr describes how to ignite a "Bonfire of Attention" with ignition, then kindling, leading to a flaming inferno. He describes the seven triggers that capture attention: automaticity, framing, disruption, reward, reputation, mystery and acknowledgment. Parr praises selfless masters of "attention-getting" including Bill Gates, Shigeru Miyamoto, and Sheryl Sandberg who seek acknowledgment not for themselves, but for their causes. At its essence, Captivology is about capturing attention for your brand, products and services, idea or cause.
Now imagine your next meeting or event where everyone in the room is inspired and engaged with what the speaker has to say. That's Ben Parr. The self-described "expert on attention" addresses the common interest of needing to be heard and how to do it. Rest assured everyone will be giving their full attention with the humor and energy that Parr brings to his presentations.
For more information on scheduling Ben Parr as a potential keynote, simply contact us to have a speaker agent assist with the planning for your next event.