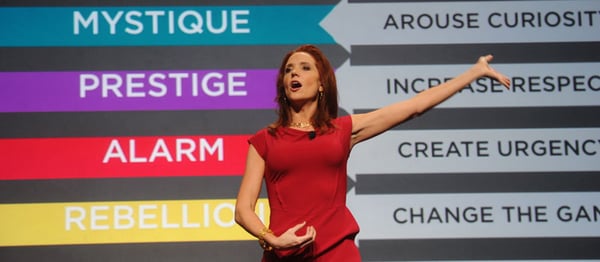 Women leaders and successful women in business have overcome hurdles which both women and men can relate to, often making them excellent keynote and/or motivational speakers. These women are especially powerful and in-demand by audiences when their accomplishment is monumental by any standard, such as leading a Fortune 20, establishing a multi-billion dollar organization from scratch, commanding a U.S. Naval station, becoming a renowned business and media icon, or chairing a major financial institution. These women leaders don't just beat the odds, they defy them.
Showcasing and differentiating to your audience "women" as leaders is compelling because there are industries which remain male-dominated, so it's especially notable when women leaders have overcome remarkable odds in reaching the top of those organizations. Especially within technology, financial or defense sectors, women are the minority, so the experience of seeing, firsthand, those exceptional women provides a powerful backdrop and statement that resonates well with audiences.
Lastly, women leaders often exemplify the leadership traits and qualities that propelled them to become industry leaders. Creating a leadership style for a woman has different characteristics than a man's leadership style; in fact, there have been studies that share that:
Women leaders are often more persuasive

Women leaders often overcome adversity by adopting an "I'll show you" approach as opposed to a more traditional "I'll tell you" management style

Women typically demonstrate higher team-building styles

Women take risks and "draw outside the lines" to create a new rulebook
Notable women leaders such as Carly Fiorina, Sheila Bair, Nancy Brinker, Maria Teresa Kumar, and Marty Evans are excellent representations of powerful women leaders.
These exceptional women leaders inspire audiences through their spectacular achievements and via the stories and meaningful lessons they weave into their message for overcoming all obstacles.