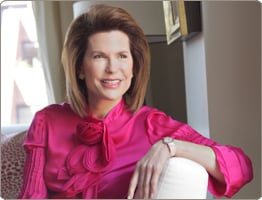 Motivational speakers are people who make a difference. When it comes to changing the world, there may be no better motivation than a promise. Nancy Brinker promised her sister, Susan Komen, that she would raise awareness of and to help find a cure for breast cancer. Unfortunately, Susan passed away in 1982 at age 36. At that time, no one was talking about breast cancer. It was a quiet disease that no one wanted to talk about or share. Yet today, we've likely heard of or known someone touched by breast cancer and the whole month of October is now dedicated to its awareness, detection and eventual eradication. Treatment has made many advances, yet breast cancer still is a terrifying diagnosis; thanks to early detection and other improvements, millions of women do survive breast cancer.
In 2012, it is estimated there will be over 225,000 newly reported incidents of women diagnosed with breast cancer within the US -- and that nearly 40,000 of those women diagnosed will not survive.
Nancy Brinker took the initiative after losing her sister to establish the Susan G. Komen for the Cure foundation. The foundation pioneered cause-related marketing initiatives that led to new legislation, greater government research funding and billions of dollars spent on awareness and research. Today, Susan G. Komen foundation is the largest network of breast cancer survivors and activists in the world.
From an inauspicious beginning at a kitchen table to one of Biography Magazine's "25 Most Powerful Women in America" and Ladies Home Journal's "100 Most Important Women of the 20th Century", Nancy Brinker shares an empowering journey which resonates with women executives, entrepreneurs and business leaders. We all have the power, as an individual, to make a difference in our workplace, our community and in our home.
Turning adversity into positive change for the greater good is an important aspect of today's challenging economy. By motivating and empowering our associates, we create the opportunity for them to add more value to the team, thereby gaining greater confidence and job satisfaction for them and increased productivity and organizational strength for the firm.
Selecting a speaker with a story that transcends the status quo and resonates with an audience is important. Whether your event is related to health care initiatives or business motivation, having a powerful woman leader such as Nancy Brinker will make a lasting impression on your audience.