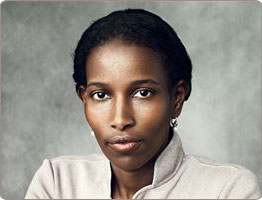 Women leaders come in many shapes and sizes and when hiring a woman speaker for a keynote presentation, the hope is that the message is inspiring and motivating. Few women speakers have the background or depth of life experiences to turn a negative into a positive as Ayaan Hirsi Ali, a relentless champion of free speech, defender of women's rights and outspoken controversial public figure. She has been the target of death threats, victimized publicly, and yet she is a voice that won't be silenced.
The best women speakers have a story to tell, and Ayaan Hirsi Ali's story is one of overcoming adverse conditions and making the commitment to make a difference. A powerful storyteller with a dynamic presence, this inspiring woman keynote speaker has risen to be a recognized advocate and educator.
Ayaan Hirsi Ali was born in Mogadishu, Somalia. She has been widely honored for her clarity, courage and cogent leadership including being named one of Time Magazine's "100 Most Influential People in The World," as well as a "Hero" by Glamour Magazine. Her dynamic story is one of courage, passion and the power of an indomitable spirit.
After a forced ceremonial female circumcision, escape to Kenya to flee political persecution and an arranged marriage to a distant male cousin, Ayaan Hirsi Ali escaped to the Netherlands, where she eventually rose to a position within the Parliament. While in the Netherlands, her life was threatened due to a screenplay she wrote that resulted in a tragedy - the killing of the Dutch filmmaker, Theo Van Gogh. The film, Submission, detailed the issue of violent oppression of women in Islamic society. Van Gogh was murdered by an enraged radical Islamist. The murderer left a note on Van Gogh's chest that singled out Ayaan Hirsi Ali as his next target.
Ayaan Hirsi Ali is charismatic and powerful. Her intelligent and passionate ability to share details and painful events, and how these experiences fueled her determination to make a difference and be heard resonates within an audience. As Ayaan Hirsi Ali has been able to make a difference, her message is that we all have the power to make a change; a powerful motivational keynote presentation that inspires and challenges us to do more.
Despite the odds, Ayaan Hirsi Ali has steadfastly been the voice of advocacy for women's rights. Her internationally acclaimed memoir Infidel inspires recognition for the power of determination and hope, and how one person can have the power to change history.