Sometimes business inspiration comes from unexpected places. When selecting a keynote speaker for a diverse audience, finding a qualified speaker who can address the needs of business in a multifaceted manner can result in unexpected keynote presenters. One such presenter may not be someone you'd think of, although he was named by USA Today as one of the "Top 25 Influential People of the Past 25 Years". He's influenced fashion, music, finance, entertainment, and recently, current affairs when he met with the parents and brother of slain teen Trayvon Martin while they were in New York.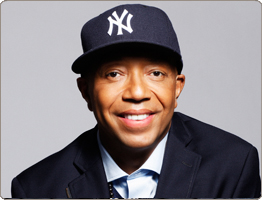 Russell Simmons is not a stranger to the limelight. His message is one of making your own success, which was the focus of his bestselling book, "Do You! 12 Laws to Access the Power in You to Achieve Happiness and Success". The book reflects Simmons philosophy of combining business with spirituality and trying to be the best that you can. Since his rise from NYC roots, Russell Simmons has created successful companies, and in his book, he credits his success to his philosophy and belief in a strong set of 12 steps, which he shares as a path to realizing the potential of your dreams, regardless of whether they are personal or professional.
Russell Simmons, perhaps best known for his pioneering of hip-hop culture, has been responsible for finding and promoting talent including Run DMC, Whodini, Beastie Boys, Jay Z, Foxy Brown and Ludacris. He's the legend behind Baby Phat and co-founder of Def Jam Records.
While the litany of accomplishments goes on, the reality of hiring a terrific keynote speaker may be in finding a non-traditional approach to inspiring as well as entertaining an audience. What could me more important to today's business audience than a speaker who can discuss the realities of building a business from scratch, sustaining its success and parlaying that into other profitable business endeavors? From his platform in hip hop, Russell Simmons has also utilized his personal and corporate influence for social change. He chairs Rush Community Affairs and the Foundation for Ethnic Understanding, an organization dedicated to bridging the gap of religions and ethnicities.
Business success and growth begin with inspiration and dedication. Throughout his career, Simmons has been a stellar example of both.
Selecting the best keynote speaker for a business event may be choosing an unexpected source; one with a message that offers exceptional business acumen and insight paired with passionate inspiration to truly drive personal and professional achievement.