What You Need to Know About Secretary Elaine Chao...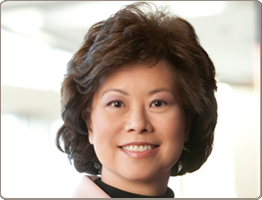 Speaking on strategy, the geopolitical climate and global competitiveness, Secretary Elaine L. Chao pulls from her unique perspective at the Department of Labor, her experience as CEO of United Way of America, and her service as Director of the Peace Corps to deliver compelling speeches as a powerful keynote speaker.
As the 24th Secretary of Labor (2001-2009), Secretary Chao became the first American woman of Asian descent to be appointed to a President's Cabinet in our nation's history. She served as Secretary for eight years.
Following her service in the government, Sec. Chao worked for four years as President and Chief Executive Officer of United Way of America. She is credited with returning credibility and public trust back to the organization.
Based on her distinguished career in all three sectors—public, private and nonprofit—Secretary Chao knows the impact that current events and major economic trends have on organizations around the world.
The Secretary is a brilliant thought leader on issues related to global competitiveness, politics, geopolitical strategy, international business, and leadership. Secondary topics include volunteerism, women's issues and philanthropy.

Secretary Elaine Chao Trivia
Interesting Facts about Sec. Chao:



As Secretary, she achieved record results in workforce health and safetyand helped increase the competitiveness of America's workforce in a global economy.

She was born in Taipei, Taiwan and is fluent in Mandarin Chinese.

She is the only member of President Bush's cabinet to serve a full eight years.

She has received more than 34 honorary doctorate degrees in addition to her MBA from Harvard Business School in 1979.

In June 2011, she was awarded the Woodrow Wilson Award for Public Service.
To learn more about Secretary Elaine Chao or about WWSG and our new approach to fulfilling your needs and objectives, contact us now at 703.373.WWSG (9974) or visit WWSG.com.