While drones may seem like a matter of Predator strikes in far off countries, they will soon become a domestic reality as our airspace begins to open up to their use in commercial and civilian capacities: law enforcement, agriculture, journalism, recreation, education, etc.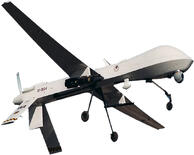 A NEW INDUSTRY EMERGES: Experts explain that we are currently on the brink of a new emerging industry-- similar to the advent of the computer industry. With the forthcoming boom in drones and robotics, 38 states are competing to win special test sites in the hopes of becoming the next Silicon Valley. Of those, CNN Money identified nine that are best poised to benefit from the drone industry.
MORAL, POLITICAL & LEGAL IMPLICATIONS: Drones are a disruptive technology and, as such, introduce an array of controversial issues, ranging from privacy to homeland security. As anti-drone movements make their way through state legislatures, organizations will need to prepare for the rising drone economy and all of its potential implications.
HOW TO PREPARE: New York Times bestselling author P.W. Singer helps you explore the business opportunities of this newly emerging industry, while also preparing for the key issues surrounding drones: the tough political, legal, and moral questions that will challenge us for years to come. Please take a moment to read about P.W. Singer below and let me know how I can help to bring him or any of our other distinguished speakers to your next event. I may be reached at 703.373.WWSG (9974) or solutions@WWSG.com.
P.W. Singer: Director of the Center for 21st Century Security and Intelligence, Brookings Institution
Dr. Singer is the youngest scholar named as a Senior Fellow in Brookings' 95-year history and is considered one of the world's leading experts on changes in 21st century technology and warfare. He advises groups ranging from the Pentagon to Hollywood, exploring the pitfalls of past predictions and instructing businesses, government institutions, and video game developers on how to plan for a future defined by new technology.
Speech topics include:
When the Predator Comes Home: The Opportunities and Questions of the Coming Robotics Boom
The Emerging Drone Industry: Business Opportunities & the Moral, Legal and Political Implications
Why Do We Get the Future So Wrong, So Often? The Perils and Promise of Prediction
Wired for War: The Science Fiction/ Science Reality of Robots, War, and Politics in the 21st Century
Stay posted on P.W. Singer and other influential thought leaders by following WWSG.