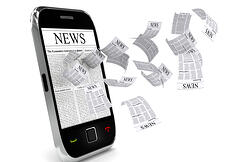 What do drones, mortgage securities, tax reform, and immigration reform, have in common? They are key issues making major headlines by some of our top women thought leaders.
Our speakers at Worldwide Speakers Group (WWSG) continue to shape the major headlines you read every day. These include:
Sheila Bair pens a Fortune op-ed with Barney Frank on the mortgage securities market;
Ayaan Hirsi Ali argues in the Wall Street Journal that immigration reform needs to include measures to detect the radical anti-American beliefs of some new-comers;
Katty Kay speaks on whether Washington dysfunction will help the economic recovery;
Carly Fiorina on CNBC recommends specific reforms to improve the outdated US tax system;
Kiron Skinner on MSNBC reacts to President Obama's speech on drones.
These speakers are some of the top thought leaders on the economy, national security, foreign relations, and healthcare, among other important topics. As always, please let us know how we can help with any of your speaker needs: 703.373.WWSG (9974).

| | |
| --- | --- |
| | "Instead of loosening standards (Dodd-Frank financial reform law) to appease the mortgage securities industry, regulators should make it virtually impossible for securitizers to escape having skin in the game." ~Former FDIC Chairman Sheila Bair |
| | "Muslim leaders should ask themselves what exactly their relationship is to a political movement that encourages young men to kill and maim on religious grounds." ~Ayaan Hirsi Ali, Political Leader & Islam Reformist |
| | Labor Secretary Elaine Chao to speak at the 9th Annual Aspen Ideas Festival about critical dilemmas we face and positive, constructive ways to move forward. |
| | "To reform our outdated tax system, we need a competitive rate and vastly simpler codes, so we can incentivize companies to stay and move cash from overseas back into this country." ~Former HP Chairman & CEO Carly Fiorina |
| | "On the drone issue, the White House needs to give a public version of the classified findings issued last week so we can understand how it will limit the drone program, which is unclear now." ~Kiron Skinner, DOD's Defense Policy Board |
| | "The emerging economy that everyone is watching is America, but the question is what is Washington going to do to help if anything, or more alarmingly, what will Washington do to hinder this progress." ~BCC Katty Kay |
Stay posted on these influential thought leaders by following WWSG.