Millennials & Social Media: The Impact They Have on Politics
NY Times Political Correspondent Matt Bai on Post-Boomer Politics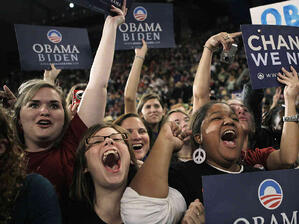 In both the 2008 and 2012 Presidential elections, the overwhelming support from younger generations of voters ensured Barack Obama's victory as the 44th President of the United States in addition to his reelection. The Millennials have had a huge impact on recent elections, but it may be too soon to understand the complete impact. At the same time, social media has unleashed a new level of transparency. Politicians are under the microscope now more than ever, which is having positive and negative implications on our political system.
In this final segment of exclusive podcasts, New York Times Magazine chief political correspondent Matt Bai explores the lingering question every political junky is asking: how can future candidates appeal to the youth vote? Matt Bai provides his insights on the youth vote in addition to the political party responses to these generational shifts. He also analyzes the impact of Millennials on the U.S. Political System and the extent to which social media technologies have shaped a platform for political discourse.
Part I: How Are Political Parties Responding to Generational Shifts?
In this video, political correspondent Matt Bai explores the impact of generational shifts on politics and the ability—or inability—of American political parties to adapt. Bai suggests that Democrats are the greatest beneficiaries of this generational shift because they have managed to adopt the technologies and issues that emerging generations care about (Transcript available here).
Part II: How Do Millennials Influence Politics?
"What really intrigues me is the impact that younger generations will have on governing and policy. Because these younger Americans come with a completely different cultural mindset than their parents and grandparents did."
The youth vote was a significant factor in both the 2008 and 2012 elections, but political analysts want to know by how much of an impact will the youth vote have on future elections? Matt Bai suggests that the Millennial generation will do more than vote; it will shape the policies and practices of the U.S. government for decades to come (Transcript available here).
Part III: How Do Social Media Technologies Impact Politics?
Social media has brought a new era of transparency to Washington. When news of a scandal breaks, social media instantly informs everyone, and judgment is hastily passed. This phenomenon has both positive and negative implications. Matt Bai analyzes the pros and cons of social media's impact on politics. From his unique perspective, Matt Bai suggests that "we are in the Wild West of this new technology" and "it's not clear what social media technology will survive." He then predicts to what extent social media will change the American political system (Transcript available here).
For access to more exclusive content from Matt Bai and other distinguished thought leaders, follow Worldwide Speakers Group on LinkedIn, Twitter and Facebook.
As the Chief Political Correspondent for the New York Times Magazine, Matt Bai has his finger on the pulse of contemporary American politics. He covered the 2004, 2008 and 2012 presidential elections, and is a respected thought leader on generational change in American politics.
Stay posted on upcoming podcasts by following WWSG.