Executive Profile: From the Podium to the Pitcher's Mound
By: Jing Cao, Washington Business Journal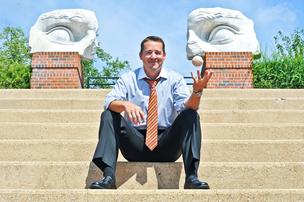 Most people don't know what Dan Sims does for a living. He doesn't talk shop much, and most don't get his field.
His firm represents speakers — from politics, business, media, sports — and connects them to customers looking to book them for events across the globe. Since founding Worldwide Speakers Group with partner Bob Thomas in 2009, Sims has come across famous names, from Newt Gingrich to Carly Fiorina, and traveled to exotic places. Most can't say they've climbed Mount Kilimanjaro or seen the Great Wall of China because of their jobs. Sims can.
Why the speaker bureau business? If you asked anybody who does what we do, they're going to tell you they fell into it. That definitely happened in my case. I worked for a company in D.C. providing Internet and phone solutions and one of our customers was in the speakers' bureau. I essentially hounded them until they hired me, and that really started my career.
How's business? We feel extremely fortunate. If you took a look at the types of people we represent — the level of people, the customers we're working with — no other organization in our industry has had as profound an effect as we've had. It's directly related to the people who work here.
Biggest current challenge: By far, finding the right people savvy enough to intimately understand the needs of our customers and also sophisticated enough to articulate the nuances of the people we represent. As the economy has stayed the way it is, a lot of the work our customers have been doing in-house, they no longer have the means to do that. They're requiring vendors provide a level of support that's different than it's ever been before, and finding people who think in a consultative way is difficult.
Next big goal: To expand internationally, through acquisition and partnerships. We've just acquired a firm and are going through that process and integration right now. We did business last year on six continents, and I'd love to get a seventh. We need a conference in Antarctica.
Best lesson from your mentor: I actually have two mentors: my father and father-in-law. The best advice that I've been given, is to not be afraid to surround myself with people smarter than me. I think that business leaders, and specifically entrepreneurs, have an inherent insecurity, that they feel the need to be involved in every decision that's made for the company. It's a scary thing to let go.
Best business decision: Without question, it's choosing the correct partners. My partner, Bob Thomas, he's an incredibly well-thought-out person. His reputation has helped our business tremendously. He's taught me a lot.
Best speech you've given: I would say that I'm not an exceptional speaker, especially by my own standard. But I very much enjoy speaking to undergrad and MBA students about their aspirations. There is nothing that is off-limits for them to ask. School is maybe the last place in our life where we can get objective advice for free, relatively.
Most memorable event where you spoke: There was an entrepreneur contest I've judged where I was absolutely blown away by some of the things the GMU students were doing. I've been pleased to stay in contact with them as an adviser if they need anything.
Most interesting speaker you booked: It would be impossible to pick a favorite. One of the most popular speakers we work with and a personal favorite of mine is Newt Gingrich. He constantly learns from each conference he attends, and he reinvents himself.
A time when things didn't go to plan: We had a conference in Yalta where the plane did not arrive, and we had to scramble to charter a plane to get several high–profile people to a conference. It requires all hands on deck, it requires having excellent vendors in place, and a total commitment to getting the problem solved. The plane got there on time, and the customer never knew.
Most memorable client: The most memorable ones are the ones that aren't typical. For example, there is a gentleman named Roger Nierenberg. He's one of the world's most famous orchestra conductors. And he has a program where he will sit an entire orchestra, scattered through the audience. They'll play music they've never seen before, and they don't know why they're sitting in the audience. He creates what he calls a living laboratory — the musicians and the audience have a forum to talk about issues such as teamwork and communication.
What would you change about your job? I get to travel to many events. In the last six months, I've been to Beijing, London, Brussels, you name it. But I wish I got to spend more time at the actual conferences.
Guilty pleasure: Red wine and stinky cheese. My wife is French, so if we're going to pick and choose, it's going to be big red French wines.
Favorite movie star: John Wayne. I just think confidence can go a long way.
If you had $1 million, you would: Buy a minor-league baseball team. Probably one of the smallest ones you could find. I've always been a baseball nut, and I think it's the combination of small-town business and a personal passion for baseball for me. And I would like to shoot T-shirts at people.
Businessperson you most admire: My dad is a management consultant, colonel in the army. I've seen him walk away from jobs and opportunities that didn't agree with him ethically.
Speaker you most admire: When I was trying to decide whether I would go into business myself, I was calling speakers trying to represent them, and my first speaker ever was Gerald Coffee. He was a POW in Vietnam for seven years — most of that time in solitary confinement. With his reputation alone, other notable people signed on with me, and I give him an enormous amount of credit for helping me start my career. He's as genuine of a person as you'll ever meet.
Personality in high school: Your typical military brat. I moved an awful lot and it was always sports that helped me make friends. I played everything from baseball to soccer to football to track. I still play on a baseball team here in D.C. I'm a pitcher and first baseman on the Centerville Blues.
Your go-to karaoke song: "The Gambler," because I know all the words.
Favorite book: It goes back to Gerald Coffee. His book is called "Beyond Survival." That's how I ended up calling him. It's about how you go through adversity and come out on the other side with honor. When I was starting my own career, I had two children under 3, I was in the middle of grad school, I was newly married, and it just resonated with me.
What would you do if not this? I think I would be a treasure hunter. Like Mark Gordon of the Odyssey.
Your coolest adventure: I represented a guy named Jeff Evans, who was one of the most renowned mountain guides in the world. He was planning an expedition for people to Kilimanjaro and asked me if I wanted to come. You learn a lot about somebody when you share a tent with him and don't shower.
Most difficult adventure: Two years ago, my wife and I took our three little children on a 6,000-mile RV trip around the country for about 18 days. And my youngest was 18 months old. That's difficult. I learned a phrase when we were climbing Mt. Kilimanjaro, and it applies to both of those: They were miserably awesome. Traveling in an RV with three little kids is an exercise in patience and flexibility.
Favorite hobby: A week ago, we got back from taking the kids to Finland and France for a week, and it was also great fun. That's our hobby, traveling as a family.
Next big adventure: My wife and I just did the Tough Mudder. That was here in West Virginia. I've done adventure races in Pennsylvania, Maryland, and I'm constantly looking for ways to be competitive and to test myself, challenge myself. We'll probably do the next one in October, and next summer will hopefully be another big road trip.
Favorite movie: "Bull Durham." It's just a great combo of comedy and baseball.
Favorite restaurant: The Melting Pot, cheese and wine. The one we go to is out in Reston.
Favorite place outside of the office: Definitely camping out in the woods. Hiking or biking. Outside. That's been the most important thing for me for as long as I can remember. It's where I go when I get stressed, when I have free time. It keeps everything in perspective.
Favorite camping spot: We go most often out to Luray. There's a campground out there my kids love.
What's one thing you cannot do without each day? Exercise. I go to the gym a couple of times a week, I play baseball, I coach my kids' soccer. It's a mix for me. I get bored really easily.
Pet peeve: Tardiness. I just view being late as basically stealing time. I don't know that there's anything more valuable than time.
What's on your iPod? All of the Disney tunes and whatever else my kids download onto it. It's terrible. I know all the Disney and Justin Bieber songs. I have a 12-year old daughter so she's my deejay. If it was me personally, it would be Willie Nelson.
The Basics on Dan Sims
Principal, Worldwide Speakers Group LLC
Age: 38
Education: Bachelor's in marketing, Pennsylvania State University, MBA, George Mason University
Residence: Centreville
Family: Wife Michelle; daughter Riley, 12; sons Brock, 9, and Cooper, 4; goldfish
First job: Administrative duties for attorney who represented the Redskins and Orioles
For the full article, please visit Washington Business Journal's website: http://www.bizjournals.com/washington/print-edition/2013/08/09/executive-profile-from-the-podium-to.html.