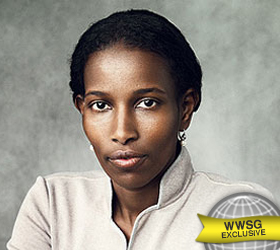 Worldwide Speakers Group featured motivational speaker, Ayaan Hirsi Ali, as an international best-selling author, a global symbol of freedom, and named in TIME Magazine's "100 Most Influential People in the World." She is at the epicenter of changing global events involving feminism, diversity, and Islam and her story is undeniably riveting.
She burst onto the international scene following her best-selling autobiography Infidel, which chronicled her upbringing in Somalia, Saudi Arabia, Ethiopia and Kenya; her rise to political power in the Netherlands; and the murder of Dutch film director Theo van Gogh, with whom she made the film Submission. Theo van Gogh was shot and then stabbed through the heart with a note affixed to the dagger, stating that Ayaan Hirsi Ali was next.
From the pain she saw and experienced personally to the September 11, 2001 terrorist attacks on the United States, Ayaan made a conscientious decision to denounce extreme religion and take a strong stance against Islam – believing that humankind can live in peace alternatively. Since that momentous decision, she has travelled a diverse life path winding from surviving assassination attempts, estrangement from her family, serving in the Dutch Parliament, and living in hiding, to becoming the women's rights advocate and Islam reformist that she is today. In 2007, Ayaan founded the AHA Foundation, a group working to end the honor violence that effects thousands of girls and women in the U.S.
Ayaan is a luminous example of enlightenment and courage, passion and persistence. She continues to expose, through authoring four books and one movie collaboration, an unrelenting religious society which orders severe physical and emotional abuse against female adults and children. To date, Ayaan Hirsi Ali's dedication and hard work have earned her more than ten awards from diverse international communities. Drawing from her personal evolution, her inspirational message calls on humanity to change the world by asking the tough questions to protect human rights, equity and justice – the same principles democratic societies are rooted in. Ayaan Hirsi Ali speaks before crowds about topics including Islam and the West, her story, human rights, freedom of speech, and peace.
In her new book HERETIC: Why Islam Needs a Reformation Now, Ayaan Hirsi Ali makes a powerful case that a religious Reformation is the only way to end the terrorism, sectarian warfare, and repression of women and minorities that each year claim thousands of lives throughout the Muslim world.
Interested in reading more of her story? You can read more about Ayaan here. If you have interest in booking Ayaan or other featured speakers for your next event, simply contact us.