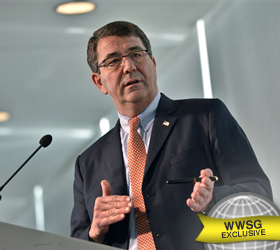 Ash Carter, the former Deputy Secretary of Defense, has confirmed Worldwide Speakers Group for exclusive representation for his global speaking activities. As Deputy, Ash Carter served as COO of the U.S. Department of Defense and was one of the world's largest consumers and administrators of healthcare, energy, and technology. He is a Rhodes Scholar recognized for his intellect and for leading innovation programs larger than most economies
"Ash Carter's no-nonsense brilliance, contagious sense of humor, and down to earth delivery make him an audience favorite around the world," said Bob Thomas, Principal and CEO of Worldwide Speakers Group. "Smart organizations and global businesses understand the practical learning and logistical foresight required for leading extremely large initiatives around the world. No one has earned this recognition or understands this better than Ash Carter."
Carter is an expert on a broad range of business, academia, operations and security issues, including: business innovation, energy, leading technologies, cyber security, and the global economy. As Deputy Secretary of Defense, he was responsible for the 24/7 global management of more than 2.4 million employees, countless contractors, the largest real estate operations in the world, and an annual budget of more than $600 billion. In academia, Carter was a Rhodes Scholar and a former professor at Harvard and Stanford Universities.
Known for his bi-partisanship – he was unanimously confirmed twice by the U.S. Senate – Carter is known for innovating on a massive scale and for his deep understanding of operations, mechanics and engineering, as well as the importance of forging strong, global relationships. He advised on the creation of the Department of Homeland Security in 2001-2002 and is considered one of the most powerful, respected, and effective former Deputy Secretaries of Defense in recent history.
Carter joins an exclusive roster of prominent political and international figures as Dr. Sanjay Gupta, Henry M. Paulson, Jr., Bill Richardson, Allen West, Carly Fiorina, Newt Gingrich, Sheila Bair, Robert B. Zoellick, Elaine Chao, Ray LaHood, Gary Locke, Ayaan Hirsi Ali, and General George Casey.