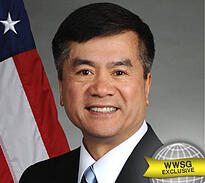 Gary F. Locke, the former U.S. Ambassador to the People's Republic of China, has selected Worldwide Speakers Group for exclusive representation of his global speaking activities. A former U.S. Secretary of Commerce and Governor of Washington, Locke is widely recognized as one of the world's foremost authorities on U.S.-China relations, global expansion, and business growth.
"Gary Locke provides audiences with keen insights on global competitiveness and how to grow an organization's global presence in and with China," stated Dan Sims, Principal of Worldwide Speakers Group. "Smart organizations understand that doing business around the world, and particularly with China, is no longer optional. No one understands this better than Gary Locke."
Locke is an expert on a broad range of economic growth and foreign policy issues, including: China, global trade and exports, intellectual property protection, strategic leadership, environmental protection and sustainable growth, human rights, and job creation. As both U.S. Commerce Secretary and Governor of Washington, Locke was recognized for innovative approaches, streamlining processes, and boosting efficiencies and productivity. Harvard's Kennedy School of Government recognized him for successfully managing under-budget, high-risk initiatives.
He is the only Chinese-American to have served in three vitally important leadership roles in the United States: a two-term Governor of Washington — the nation's most trade-dependent state; U.S. Secretary of Commerce; and U.S. Ambassador to the People's Republic of China. Locke has been largely credited for establishing Chinese trade policy helping to level the playing field for U.S. businesses, increase U.S. exports, and significantly boost investment by China into the United States – widely bolstering American job growth.
Locke joins an exclusive roster of prominent political and international figures as Dr. Sanjay Gupta, Henry M. Paulson, Jr., Dr. Evan Feigenbaum, Allen West, Carly Fiorina, Newt Gingrich, Sheila Bair, Robert B. Zoellick, Elaine Chao, Ray LaHood, Ayaan Hirsi Ali, and Ambassador Bill Burns.