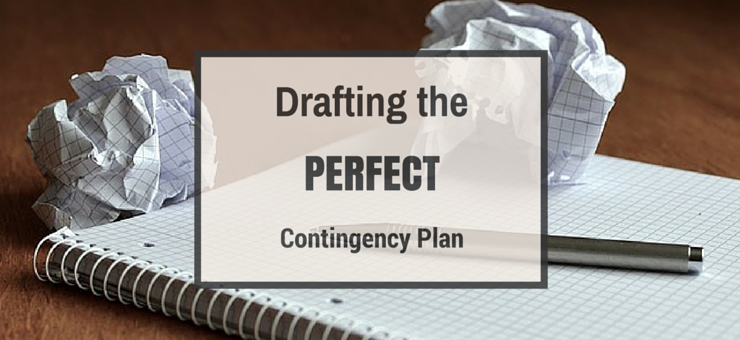 You've booked your keynote speaker, and your event is coming up. You're beginning to schedule your speaker's travel plans, and you're curious about whether or not they will make a short layover. What do you do?
The correct answer would be to create a contingency plan. A sound contingency plan will ensure that your speaker will be able to attend your event regardless of any extraneous circumstances. Their scheduled flight should have some backups, and their travel plans from the airport should take any account other than the intended one into consideration. Without a well-thought-out contingency plan, your event could happen without your keynote speaker. The best event planners put together a number of contingency plans in case anything goes wrong.
What Is A Contingency Plan?
A contingency plan is not a backup plan; rather, it is a plan that takes a future event into account. Contingency plans are different than a "Plan B" because they are built to carry out "Plan A" under various, sometimes undesirable, circumstances. For example, a contingency plan is not another set of plane tickets in case the original flight is cancelled. Instead, it is an observation that a cold front is going through the area and planning your speaker's travel around that fact to get them to their destination.
Your speaker might make their first flight, but they might miss their connecting flight. In this instance, you could book an additional flight that leaves an hour after the original flight lands. An effective contingency plan will account for any delays, cancellations, and any other extra circumstances that could cause your speaker not to attend your event.
Travel Plans
Seat Preference
As an event planner, you should have already uncovered specific details on your speaker's travel preferences. Do you know what airplane seat they prefer? If not, asking your speaker what seat they prefer on their backup flights is an excellent way to uncover that detail. Make sure you book that particular kind of airplane seat for the duration of their travel to and from your event because it will ensure your speaker's travel is as comfortable as possible.
Backup Flights
Even if the weather is 70 degrees Fahrenheit and sunny where your speaker will be departing from, the weather along the airplane's route might be undesirable. Furthermore, planes can be delayed in good weather due to technical or mechanical issues. Remember, if one flight is cancelled, then there must be more cancelled flights. For that reason, you need to make sure you book backup flights.
After The Airport
Does your keynote speaker have a preferred car service that they use? And for the car service, does your speaker prefer a particular kind of car? Will they want to drive themselves, or will they want to be a passenger? These all are essential pieces of information that can help you provide as much value as possible for your speaker.
For example, if your speaker desires an Uber, make sure you know what kind of Uber. If you're responsible for the travel of your speaker, remember that the more seamless their trip will be, the more likely that you'll be able to book that speaker in the future.
Communication With The Speaker
At any point, your speaker's travel plans might not follow your ideal plan. The best event planners have the ability to reach out to their speakers directly to notify them that their travel plans are changing, and what they need to do to arrive at their destination.
In some instances, we've seen that our recommendation for the speaker to leave a day early is far superior to any carefully designed contingency plan. Having the wherewithal to call your prestigious speaker and ask them to leave the night before when they might have plans isn't easy, but the event planners with this skill will minimize the travel-related frustration on the speaker's behalf.
My Speaker Just Cancelled Last Minute…HELP!
No speaker can say that they are 100% certain they'll be available to attend your event. For this reason, event planners need to have a contingency plan for their keynote speaker. There are a variety of technologies that will allow your event to continue if your speaker is not physically present. Webinars, simulcasts, and virtual experiences might be able to solve the problem of a non-present speaker.
In some cases, speakers simply have to cancel because they just won't make it to your event. If this happens, you might want to have a backup speaker, just in case.
Contingency plans should be essential for every event planner to make sure that the speaker's travel plans and the event itself go according to the master plan of the event. If things go awry, the best event planners are able to confidently notify the speaker of their alternate route with assurance that they will arrive on time.
At WWSG, we have plenty of experience creating effective contingency plans, and we handle the communication with the client so you can make your event the best it possibly can be. Contact us to learn how we can help your event exceed expectations.
"The consistent professionalism and quality for the way Worldwide Speakers Group handles events shows they think of each detail and every contingency beforehand."

-Newt Gingrich, WWSG Exclusive Speaker