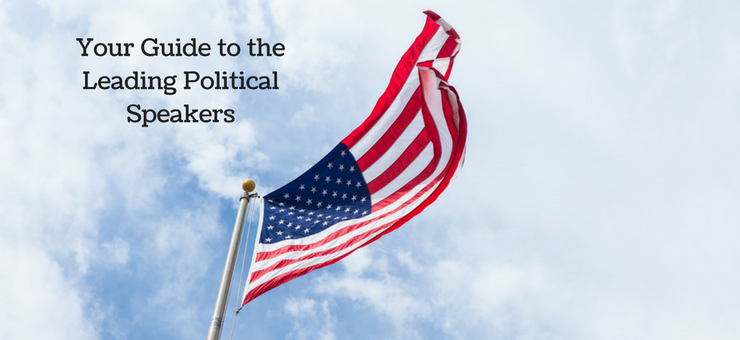 It's election season, and many organizations are planning their political events for the coming months. With November on the horizon and the country soon to decide its president for the coming four years, it's the ideal time to consider specialist political speakers for your upcoming events. We represent over hundreds of speakers, and we'd like to provide you with an inside view of the leading political speakers for an engaging event this election season.
The Honorable Newt Gingrich
Newt Gingrich has become widely known for his sharp political mind. He's known as a visionary for his understanding of the political landscape as well as his work as Speaker of the House of U.S. Representatives when he worked with Congress to pass welfare reform and the first balanced budget in a generation. As an author, Newt Gingrich has published 28 books, including several New York Times' best sellers. He's adept at speaking on a range of engaging topics, including the revolution in military affairs, and how healthcare can and will change in the 21st century.
Carly Fiorina
As the first woman to lead a Fortune 20 company, and a former presidential candidate, Carly Fiorina offers a wealth of experience for a full range of speaking engagements. Her tenure at Hewlett Packard helped highlight her reputation for strategic thinking and showcased her ability to lead a formidable organization. Carly now speaks across the globe on topics such as how corporate America must change Washington, and the global race for smart ideas, market share and economic power.
Congressman Allen B. West
Congressman Allen B. West is an exceptionally distinguished leader within the conservative political movement. His experience includes a 22-year career in the United States Army, as well as his experience as the Executive Director of the National Center for Policy Analysis. The congressman is a renowned author and wrote Guardian of the Republic, a book which highlights West's commitment to family, tradition, conservative values and freedom. His speaks expertly on the subjects of leadership, conservatism, and national security, among other topics.
The Honorable Elaine L. Chao
The Honorable Elaine L. Chao is the first American woman of Asian descent to be appointed to a president's cabinet. She has had a distinguished career in the public, private and nonprofit sectors and is known for speaking on the major economic trends of recent history. Through her experience both in the private sector and in government, she has been able to provide organizations with critical insights into the mechanisms that empower effective leadership and workforce globalization. Through her speaking engagements, she can offer valuable insights on the business challenges facing worldwide organizations in the 21st century economy.
With election season close at hand, it's now the ideal time to consider these expert political speakers for your organization's next event. For more information on booking guest speakers, download our free checklist today!