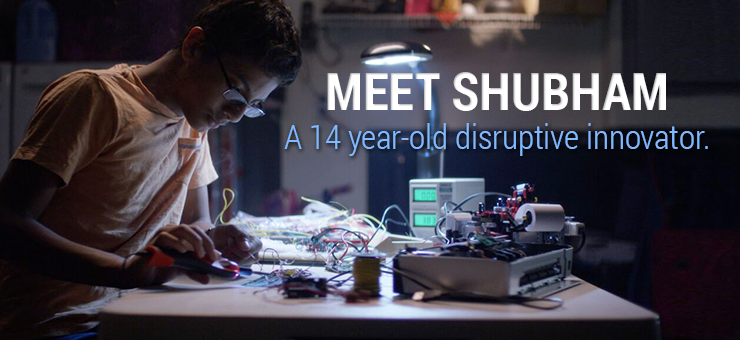 It's not every day you hear about a 14-year-old entrepreneur. Founder of Braigo Labs Inc., a "humanely optimized" technology company, Shubham Banerjee is the youngest entrepreneur ever to receive venture capital funding. Not only is he considered Silicon Valley's youngest entrepreneur, his success story has been recognized on both national and international fronts.
Shubham is regularly featured in popular media outlets including CNN, NBC and ABC, as well as a proud holder of several awards for innovation, including Popular Science's award "Greatest Innovations of the Year." While you may think there isn't much to learn from an adolescent, Shubham is disrupting the technology industry with a breakthrough innovation that is benefitting mankind everywhere.
Braigo Labs Inc.
Shubham Banerjee's journey began as he was creating his project for the school science fair last year. He asked his parents how blind people read, they replied "Google it." After some research, Shubham realized an untapped market of roughly 200 million visually impaired people that rely on unwieldy and expensive equipment to read. Braigo was brought to the market as a low-cost alternative to the Braille printer. Braigo allows you to print Braille reading materials from a personal electronic device to paper using raised dots instead of ink.
"An inexpensive Braille printer could bring affordable, 21st-century computing to millions of people facing visual impairment. Technology should help us and not become a burden to high cost," says Shubham.
Venture Capital firm Intel Capital invested an undisclosed amount in Braigo Labs, making Shubham the youngest entrepreneur to receive venture capital funds. At the age of 14, Shubham is unable to legally sign documents and write checks, so his mother serves as the official chief executive and his father represents the board of Braigo Labs Inc.
The Future
The future is bright for Shubham Banerjee. While being the subject of a number of news articles worldwide, Shubham offers other unique insights on revolutionizing the lives of mankind. Braigo Labs Inc. is working on researching, designing, creating and developing different affordable technologies as alternatives to the costly products currently available on the market.
Financial Times describes this innovation, "The young people joining the digital maker movement are far more ambitious than that. They are like Shubham Banerjee: they want to make a difference."
Shubham Banerjee is currently WWSG's youngest professional speaker. While he is just getting started on the public speaking circuit, audiences worldwide are inspired and captured by his endless imagination and vision. Your event attendees won't be disappointed.
Check out Shubham's bio page below for his featured video "Meet the Makers."