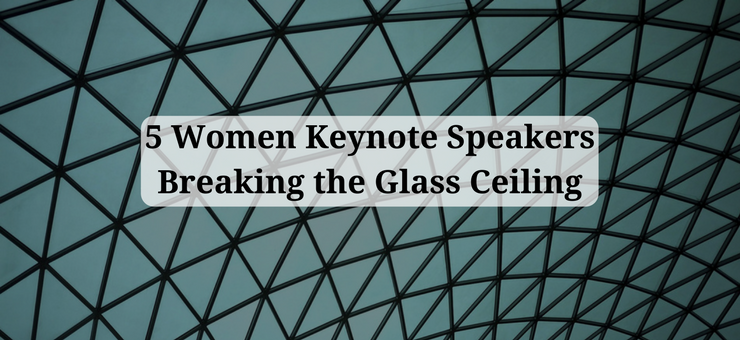 Like many barriers in the workplace, the glass ceiling is one that has always been in corporate existence. While 21st century women have really proved their ability and demanded equality, a stereotype still remains for those who have exceeded through levels of management or are in the process of currently doing so.
In 2017, there was a hyper focus on women in the workplace as March was "Honoring Trailblazing Women in Labor and Business". WWSG is proud to represent a few who have really made their mark in their business societies. From secretaries to CEOs and minority students to organization Presidents, Founders, and CEOs, some of WWSG's exclusive speakers can shed light over their experiences and inspire everyone following in their steps. Take a look at some of the most influential women who have shattered their own glass ceilings.

CARLY FIORINA
As former CEO of the world's first $100 billion information technology company HP, Carly Fiorina is all too familiar with the complex, arduous path these individuals tread and the far-reaching strategic decisions they must make with finesse and fortitude. In her six years as chairman and CEO of Hewlett-Packard, Hewlett-Packard not only survived the dot-com bust—they became the leader in every market segment and every product category. HP doubled revenue to over $80 billion, quadrupled the growth rate to 6.5 percent, and tripled innovation to 15 patents a day. While household names went out of business, Carly saved 80,000 jobs and would grow the company to 160,000 jobs. Carly transformed HP from a lurching bureaucracy into an agile, tech industry leader. As a result, HP grew from the 28th to 11th largest company in the United States during her tenure.
A passionate business evangelist who made tough choices in the pursuit of growing her organizations, Carly began her business career as a secretary and achieved the pinnacle of corporate success. She passionately believes that leaders are made, not born, and that leadership potential exists at every level of an organization. "Anyone can lead, at any time, from anywhere. Leadership is not about title, position or wealth. It is about making a positive difference."
JEN PSAKI
In a town where there has never been a female President and women only make up 19% of Congress, Jen Psaki experienced first-hand what the barriers are for women in Washington and performed her own assessment of stereotypes and the inaccurate assumptions about how to break the gender barrier. Lauded for her innovative work as President Obama's final communications chief and for her poise as the face of US foreign policy at the Department of State, Psaki was one of the highest ranking and youngest women in a senior role in the White House.
When she received a call from the President to come back to serve as Communications Director, she was five months pregnant with her first child. She overcame obstacles and broke boundaries that had never been accomplished in the White House and made history with her innovative communication tactics through social media.
SHEILA BAIR
Widely lauded for her steady hand in leading the FDIC through the worst financial crisis since the great depression, Sheila Bair has a proven track record of effective leadership and decision-making under extraordinary pressure– when the consequences are nothing short of calamitous if the decision is wrong. Chairman Bair took charge in assessing risk with imperfect information, resolving conflicts with other decision makers under crisis conditions, dealing with the media and Congress, and most importantly navigating through male power structures as the only woman in her position.
In naming her to their 100 Most Influential People in 2009, Time Magazine recognized that Bair's unusual clout derives from the breadth of her command and her guts in staking new ground.
MARIA TERESA KUMAR
Recognized as one the most influential American Latinos under 40 and as among the top Latinas in Government and Politics, Maria Teresa Kumar is the founding Executive Director of Voto Latino, a leading national civic engagement organization targeting acculturated American Latino youth. Not only does she empower Hispanic minorities through her organization, she also targets minority women to stand up and make an ever-lasting change in their communities.
From immigration to education, economic policy, voter registration, and congressional redistricting, these are just a few of the many paramount issues that come to mind when discussing perhaps the most dramatic shift in American demographic. Few people are more informed and better equipped to speak on the changing landscape of American society – and most importantly, what it means for political campaigns, elections, economic prosperity, and business growth – than Maria Teresa Kumar. Her experience is nothing short of creating huge tides in society and shattering all ceilings standing in her way.
PARISA KHOSRAVI
Parisa Khosravi, an award-winning journalist and former Senior Vice President of CNN Worldwide, had more than three decades of experience on a worldwide platform. She directed historic news coverage over the world's biggest events from the Iraq Wars and 9/11 to Hurricane Katrina and the Earthquake in Haiti. As CNN's first ever Ambassador and Senior Vice President for Global Relations, Parisa built and maintained ongoing working relationships with world leaders, dignitaries and high-ranking officials while ensuring top editorial access and forging positive strategic relationships for the network all over the world.
While not naive or in denial about some of the challenges women and minorities face, Parisa talks about how she focused her energy on what she could control. If some people she dealt with had a perception issue with a woman in charge, then that was their problem, not hers. Parisa talks about some of the most difficult challenges she dealt with as a leader at a global organization and how she tackled them as a woman in power.
As Women's History Month comes to an end, the legacy that these women have left behind has not ended. These professional women in business, politics, and news are prime examples of hard work and great success. Visit our Women's History Month page for more information on WWSG speakers and other women in business.