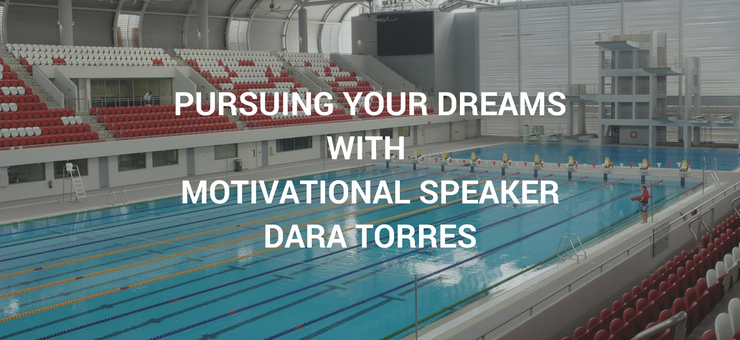 Every four years, Olympians from around the globe inspire us with their dedication, strength, precision, and power. For two weeks, they can capture our imaginations with sporting excellence. Some Olympians can inspire us further and show us that no feat is impossible with the right amount of preparation and commitment, like the incredible swimmer and five-time Olympian, Dara Torres.
After the 2008 games, Torres hung up her swimming goggles and cap to dive into the world of professional speaking. Let's examine what makes her one of the leading inspirational speakers.
Record-Breaking Olympian
At the age of 41, few people are capable of incredible athletic achievement; however, Dara Torres broke many barriers when she qualified for the 2008 Olympics Games in Beijing, China.
Dara Torres was given the honor of making the United States Olympic Swimming Team for a record fifth time. In doing so, she became the oldest ever female Olympic swimmer. She went on to win three silver medals as she swam faster than swimmers half her age. It was a feat of strength rarely witnessed even on this grand stage, and it's one of the reasons why Torres is now one of the most popular inspirational speakers.
Torres' success later in her athletic career was no surprise to those who have tracked her swimming career from her early years. She had been competing on the international stage since she was 14 (when she first broke a world record) and went on to attend the University of Florida, where she received an incredible 28 NCAA All-American swimming awards.
Post-Career Accolades
After her athletic career, Dara has continued her success to achieve a promising career as a TV commentator. Dara was a feature correspondent for Good Morning America for a period of time and has also worked in the entertainment industry for other media companies such as CNN, ESPN, TNT, and for Fox News. She even has her own health and fitness app!
Torres' remarkable comeback also inspired her to write two best-selling books. Her memoir, "Age is Just a Number: Achieve Your Dreams At Any Stage In Your Life" achieved a top 25 best-selling status in just about two months. Torres also wrote, "Gold Medal Fitness: A Revolutionary Five Week Program" which has been named to the New York Times bestsellers list.
Dara Torres has a wide range of experience and is considered one of the country's top inspirational and motivational speakers. Click here to watch her presentation at the PACT 2014 Conference.
We're now helping clients achieve maximum value from their inspirational guest speakers! Learn more by clicking here.