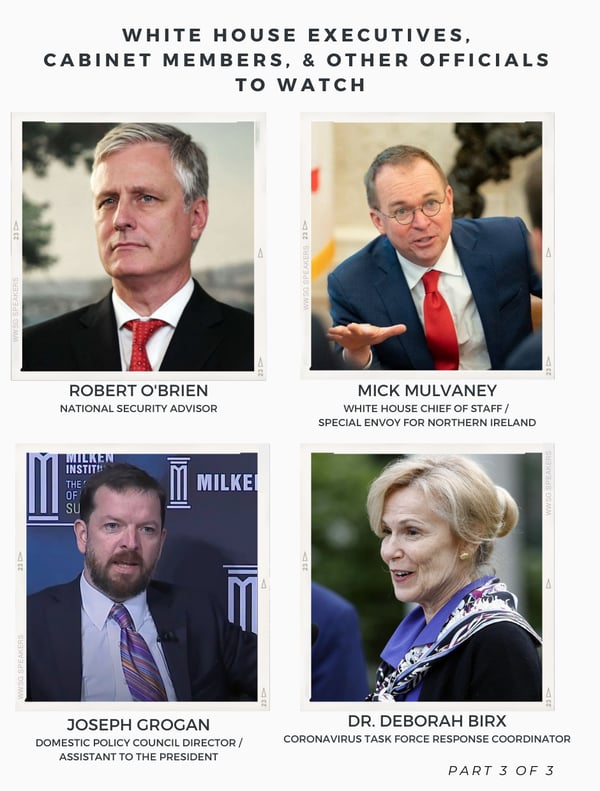 WWSG exclusively represents an array of accomplished administration officials, all with their own unique blends of experiences that led them to the White House. These outstanding speakers lend insight to audiences in the forms of leadership coaching, management techniques, and of course, and insider's perspective about what it's like to participate at the highest levels of United States governance.
Robert O'Brien was National Security Advisor of the United States from 2019-2021 after serving as Special Envoy of Hostage Affairs. O'Brien's deep understanding of international relations has been dazzling the audiences of WWSG customers. His recent address in Utah has garnered respect and recognition from republican constituents nationwide.
Mick Mulvaney held a variety of positions within the former administration, including Director of the Office of Management and Budget and White House Chief of Staff. Mulvaney is Co-Founder of Exegis Capital and has been regularly lending his professional opinion regarding the Biden administration's plans, especially as they pertain to budget management, to respected journalists and media outlets.
Joe Grogan was a member of the White House Coronavirus Task Force after his positions as Assistant to the President and Director of the Domestic Policy Council. He is a healthcare policy expert on the Board of Directors of Verde Technologies. Joe is currently working with Covid Collaborative, an organization aimed at turning the tide on the pandemic by supporting federal, state and local COVID-19 response efforts. Grogan is also passionate about addressing drug use disorder, collaborating with fellow WWSG exclusive speaker Dr. Robert Redfield to rethink and reframe policies pertaining to drug use.
Deborah Birx was deeply involved in the United States' COVID-19 response, bringing her background as a medical diplomat and expertise in epidemics to the table. Dr. Birx has been enlightening audiences with her inside knowledge of the Coronavirus versus other viruses throughout history, while providing thoughtful explanations about how vaccines work. Her enthusiastic expression and genuine passion for medical advancement work together to naturally combat vaccine hesitancy, giving crucial information to global audiences.
To learn more about hosting these or any of our outstanding speakers, Contact Us.