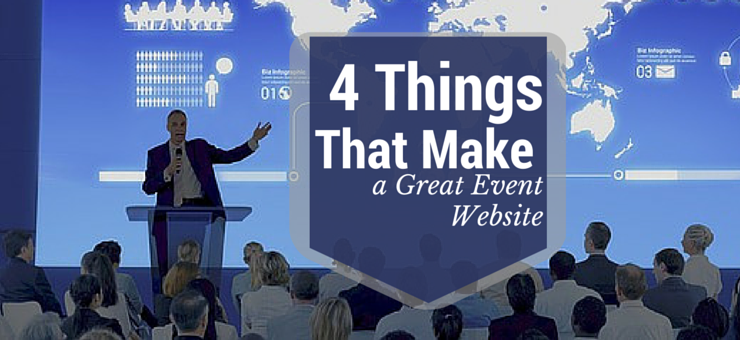 A well-designed event website is paramount to offering the most value for your attendees. Not only does it offer all the information the audience requires, it also provides an engaging user experience that drives prospective attendees to register.
There are several ways this can be accomplished. The website can highlight a professional speaker at the event with their incentives like a meet and greet or a book signing, or it can show a video from a previous event. While many event organizers are great at preparing for and running an event, they often have limited experience in the website design process.
To help guide you towards an efficient event website, our team here at Worldwide Speakers Group will share five components of every great event website.
1) Make It Easy for People to Register
As you would expect, potential attendees are more likely to register for your event if they can access the registration page with ease. Ideally, that registration link will be on every single page of your event website. The link should be clearly defined within the site, and the website visitor should know exactly where to click to register for the event.
In the creation of your event's website, remember to make all registration forms simple to fill out and try not to ask for too much information from the prospective attendee. Be sure to capture the following essential pieces of information:
Name
Email address
Job Title
Company Name
2) Include a Comprehensive Event Schedule
The event's schedule should be one of the primary features the website home page. Attendees will want to know which sessions to attend, and how long they are. By providing clear details on the event schedule, organizers can build interest in the variety of available sessions. For example, the OpenVis Conference website provides its visitors a large clickable button for quick access to the event schedule.
3) Provide Contact Information for the Meeting Organizer
In addition to providing your company's contact information and form, your event's website should include a way to contact the event planner or someone on the event planner's staff. This small detail provides prospective event attendees a way to get information that the website might not contain. Potential attendees can have their questions answered with precision by a knowledgeable organizer. It will also help capture interest from potential attendees that might be confused about a particular element of the event.
4) Intuitive Design and Easy to Navigate
Those who are interested in registering for the conference will need to understand that event's schedule of events, information on any speakers presenting at the event, and a way for people register. However, a good conference website must have an easy to navigate layout, with easy-to-locate links to all of the above information. That's why it's imperative to create the website so it is easy to navigate.
By providing an intuitive website user experience and ensuring site visitors have all the required information at their disposal, organizers can ensure success for their events this year. To discover how to boost the appeal of your upcoming event with sought-after professional speakers, check out our collection of trending speakers. Or if you already have a speaker in mind, please fill out a contact us form so we can help you see if that speaker is available.