Inspiration is all around us - in newspapers, magazines, on our smartphones and tablets. Rarely a moment goes by without someone trying to persuade us to do something, usually in the form of an idealized image, lifestyle or career path that we're encouraged to imitate.
It is especially common for women to search for inspiration and motivation from their peers or role models. The reason for this: there are still so few women at the top. This is why women seek other successful women whose careers they can replicate and advice they can follow. The stories, guidance and acumens of all successful women in leadership roles are important to the continuing success and employment of women in top-level positions across all professional platforms.
At Worldwide Speakers Group, we represent women who are successful and motivational across a broad field. Their accolades and insights span from the White House to Fortune 20 Companies to international human rights activism.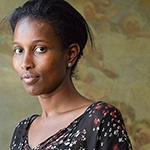 Ayaan Hirsi Ali is a renowned political leader, national security expert, human rights advocate and Islam reformist, who has faced down countless assassination threats and criticism to be an advocate for women all over the world. Her story inspires women, especially those directly affected by suppressive governments and religions, to find their voice and speak up for justice and equality. Her continued work as an advocate and leader for women's rights inspires both men and women to do the same.

Carly Fiorina is the first woman to lead a Fortune 20 Company, former Chairman and CEO of Hewlett Packard and 2016 Presidential Candidate. She is a leader extraordinaire known for building HP into the largest technology company in the world and becoming one of the most visible and influential corporate leaders in America. Her story and insights are an example of success for women in the corporate world planning to climb the ladder. With less than 20% of top-level positions held by women, Carly is an inspiration to women and young girls everywhere with a dream to lead and create results.
Jen Psaki is the former White House Communications Director and State Department Spokesperson for the Obama Administration and now Fellow at Georgetown University's Institute of Politics. She is lauded for her innovative work as President Obama's final communications chief, who recognized the vastly changing and pioneering environment she was working in. She is responsible for the development of the President's social media accounts and reaching the public instantaneously. Her bravery and creativity has inspired a transformation in White House Communications, and embodies the role women can and do play in government and politics.
Molly Fletcher is the founder and CEO of, The Molly Fletcher Company and former President of Client Representation for Sports and Entertainment Agency CSE. She is hailed as the "female Jerry Maguire," but is a trailblazer in her own right. Her business wisdom, relationship brilliance and unwavering optimism, helped her become one of the first female sports agents in the high stakes, big ego world of professional sports. She is a true and honest example of breaking through the glass ceiling. Her career; successes and failures, inspire women everywhere dispel their doubts and instill confidence.
Not satisfied with this list? That's okay! We represent hundreds of other female motivational speakers. Find the one that's right for your next event, or contact us and we can work together to find the right speaker.