Has America's COVID-19 catastrophe taught us anything?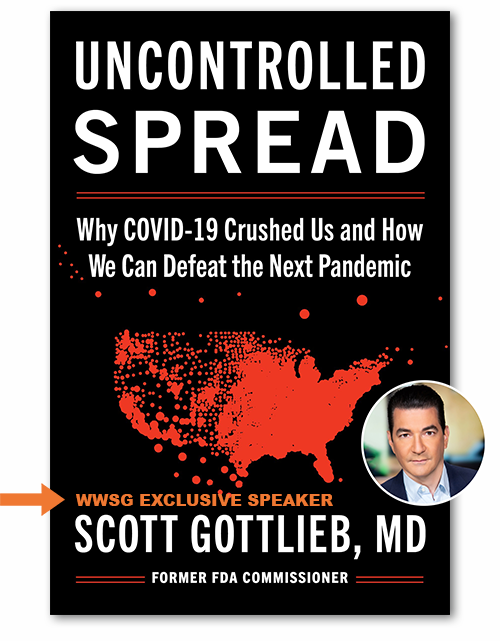 The highly anticipated book, Uncontrolled Spread by
WWSG exclusive speaker Scott Gottlieb releases September 21st!
In Uncontrolled Spread, physician and former FDA commissioner Scott Gottlieb shows how COVID-19 was able to trounce America's pandemic preparations, outlining the steps that must be taken to protect against the next outbreak. As the pandemic unfolded, Gottlieb was in regular contact with all the key players in Congress, the Trump administration, and the drug and diagnostic industries. He provides an inside account of how level after level of American government crumbled as the COVID-19 crisis advanced and addresses how we must view public health through the lens of national security to improve our preparedness for the future.
In addition to discussing COVID-19, Dr. Gottlieb speaks on these topics:
• Healthcare Innovation and The Political Economy: How will policy developments in Washington related to the regulation and reimbursement of medical technology impact the ability to innovate and secure market access for new technologies?
• The Landscape of Affordable Healthcare: How can we develop sustainable models for covering the cost of new innovations and modernize our payment models to make sure patients have access to the medical care they need without bankrupting our healthcare system?
• The Future of Science and Medicine: Science has given us transformative new tools to arrest and reverse the causes of once-deadly diseases. What is this future of medical innovation and how will we unlock the promise of new technologies like gene therapy, digital health, artificial intelligence, and regenerative medicine?
To learn more about hosting Dr. Gottlieb at your upcoming speaking engagement,
View Scott Gottlieb's Speaker Page >>