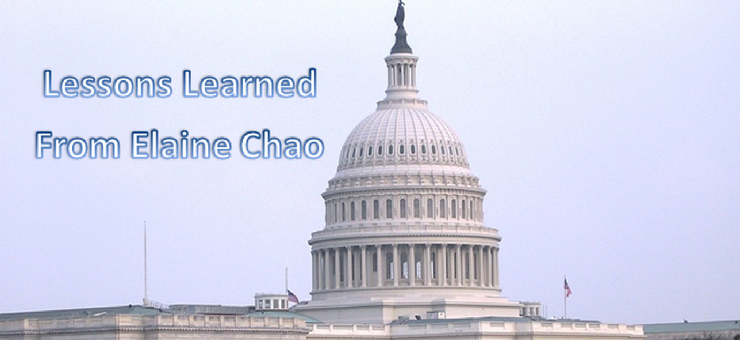 Notable accomplishments are made even more impressive when you consider the barriers an individual overcomes in the pursuit of their goal. This holds true with the first woman Asian American member of a president's Cabinet.
Elaine Chao served under George W. Bush as the Secretary of Labor from 2001 to 2009. She was instrumental in helping create legislation to protect American workers from unfair labor practices. During her tenure, she modernized labor laws to bolster the American workforce and she was the longest serving Secretary of Labor since the time of Franklin D. Roosevelt's presidency. She is a champion of change for hard working people who need her help to establish equality and fairness.
Determined to Succeed
Chao arrived in the U.S.A at the age of eight with her parents, not speaking any English. With encouragement from her father, she enrolled in school anyway and dedicated herself to learning the language. For many people, the prospect of immigrating to a new country can be daunting, but as Chao grew into an adult, she took her family's experience to heart, motivating her to dedicate her life to taking active measures for the betterment of American society as a whole. She not only was undaunted by many of the common challenges that new immigrants face acclimatizing to their new country, but she also thrived with a stellar list of educational accomplishments, including earning an MBA from Harvard University.
There are some things that you can learn from Elaine Chao, including that the value of hard work and perseverance are your greatest allies when chasing lofty goals.
Lessons on Leadership
Chao contends that her experience as an immigrant has been integral in helping to form her significant leadership accomplishments, in part because she recognizes the function of diversity in success. She is also a leader who believes in the necessity of understanding the direction an organization needs to go, and it's not enough to simply have the vision; you've got to be able to inspire your group to get there. She has said, "A good leader is someone who, first and foremost, understands that the mission of a leader is to serve others, to create value for others." In short, a good leader is only as strong as the performance of their followers.
Success takes Time
Chao didn't arrive at her groundbreaking post as the Secretary of Labor overnight. Rather, it was an accomplishment of small steps built on top of each other, marking various leadership roles in the private and public sector along the way, including being at the helm of the United Way and Director of the Peace Corps. She also believes that success is cumulative and is part of evolution.
Learn more about Elaine Chao and how she can add value to your next event. Watch videos, read recent news articles, and dioscover more about her in her full biography.
Planning a dynamic speaker for your event is not as easy as it might look on paper, and the consequences if the process isn't managed correctly may make or break your event. Click here for the Worldwide Speakers Group's free infographic that walks you step by step to plan speakers successfully.