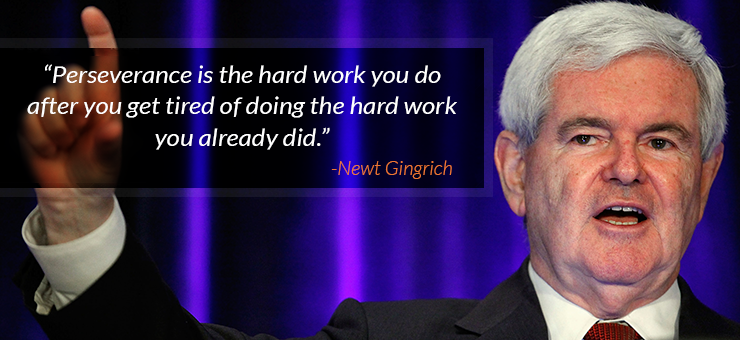 The Honorable Newt Gingrich is one of the most highly sought-after thought-leaders on today's speaking circuit. From his title as best-selling author 14 times over, to his former role as Speaker of the U.S. House of Representatives, Newt Gingrich engages international audiences with his illuminating ideas and perennial world vision. Having had years and years of personal and professional experience in business, politics and the economy under his belt, you're not only getting a keynote speaker, but a complete "Gingrich Experience." Read on to see how Newt Gingrich's experiences resonate with audiences worldwide on an educational and inspirational level.
Career Highlights
Newt Gingrich's career in the limelight began in leading the Republican Party to victory in the 1994 elections. He was then elected House Speaker from 1995-1999, where he headed a number of successful reforms from welfare to balanced budget to tax cuts. He was also an important contributor to the restoration of funding to strengthen defense and intelligence capabilities of Congress.
In his post-Speaker of the House days, Newt Gingrich was appointed to the United States Commission on National Security, placing him at the forefront of our national security challenges. The report published by the Commission 6 months prior to September 11 highlighted the number one threat to the United States was a weapon of mass destruction to one or more major U.S. cities. After these events, he made headway with the idea of a Homeland Security Agency, later turned Department of Homeland Security by George W. Bush.
Newt's next big move was his Republican candidacy for the 2012 Presidential elections. His major campaign breakthroughs included his innovative policy agenda and his noteworthy debate performances.
Speaking Engagements
All attributed to these remarkable career achievements, Newt Gingrich has positioned himself as a world thought-leader, making him one of the most popular public speakers across a wide range of topics and industries. Newt covers everything from Business and Innovation to Economy and Finance to Government and Politics. A few of his most popular speech topics include "Smart Energy Today for Strength, Security and Sustainability Tomorrow" and "The Global Economy, Jobs and What It Means for You: Current Perspectives on the Geo-Economic Landscape."
With the upcoming presidential elections, the political vanguard will be generating buzz around audiences nationwide. His ability to share unique insights from his long stint in the dynamic political scene gives event attendees different perspectives on critical domestic and international issues.
Famous Quotes
Here are a few famous quotes from arguably one of the world's most forward-thinking visionaries:
"Perseverance is the hard work you do after you get tired of doing the hard work you already did."
"I'm not a natural leader. I'm too intellectual; I'm too abstract; I think too much."
"We're all human and we all goof. Do things that may be wrong, but do something."
Captivate your audience with a speaker like Newt Gingrich and bring them an entire experience, rather than just another keynote.