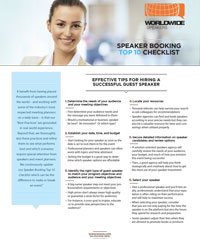 Get More Out of Your Next Event!
Effective tips for hiring a successful guest speaker.
A benefit from having placed thousands of speakers around the world – and working with some of the industry's most respected meeting planners on a daily basis – is that our "Best Practices" are grounded in real-world experience. Beyond that, we thoroughly test these practices and refine them to see what performs best and which scenarios require special attention from speakers and event planners.
Here are a few takeaways from our Speaker Booking Top 10 Checklist:
Determine the needs of your audience
Establish your date, time and budget
Identify the right type of guest speaker to match your program objectives and audience and your meeting objectives
Locate your resources
Download the full checklist for FREE by filling out the form!